(Image Source: Link)
The more often we see the things around us, even the very beautiful and wonderful things, they become invisible to us. That's why we often take for granted, the beauty of the world; the flowers; the trees; the mountains; the birds that's why we need to take a break from our busy lives go somewhere and open our eyes to the wonders of nature.
The National Namal Uyana is the largest 'Na' forest in the island, spreading over 250 acres. "Na" is the national flower of Sri Lanka. On April 26, 2005, the Government of Sri Lanka declared "Jathika Namal Uyana", as a National Heritage site.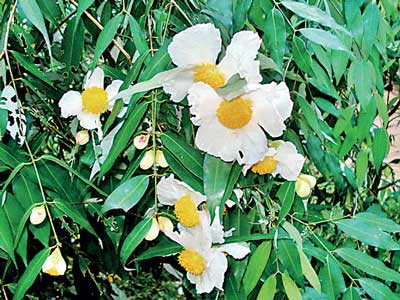 Namal Uyana, is the largest ironwood forest in Sri Lanka. The Ironwood Tree (Mesua Ferara) is an extremely rare tree. The bio diversity of the ironwood forest is very unique. It has more than 100 species of tropical plants including herbal plants. About 20 bird species and a number of mammals including elephants, leopards, monkeys and deer also dwell in the park and the jungles bordering it.
Asia's largest rose quartz mountain is situated in the 'Jathika Namal Uyana' The row of 7 rose quartz mountains are situated there. According to archaeological researchers this pink quartz mountain has a history of more than 500 million years. According to legend, Emperor Shah Jehan had used pink quartz from this mountain for his masterpiece, the Taj Mahal.
Namal Uyana had been a shelter for Buddhist monks during the period of King Devanamplyatissa in the 3rd Century B.C. Archaeological researches  show that,  during certain periods of history, Namal Uyana had also been used as a centre of meditation by Buddhist monks. Ruins of an ancient Dagoba, huge stone pillars, a Buddha statue and a moonstone confirm had been a place of religious worship and meditation. This unique natural treasure was brought to the attention of the world about 22 years ago, by an environmentalist Buddhist monk named Venerable Wanawasi RahulaThero.