A unique ancient martial art from Sri Lanka…. that combines combat techniques, self-defense, sport, exercise, and meditation.
For thousands of years Angampora fighters sacrificed their lives not only to protect the state from foreign assaults, but also to protect this form of martial art. Angampora was well respected and considered divine by its practitioners.
The exact date of the origin of Angampora is unknown. Believed to have been handed down to the Sinhalese by the Yaksha tribe, Angampora has a history that dates back thousands of years. It was Angampora that gave the people of Lanka the strength to fight the Portuguese in the well tabbed about, battle of Mulleriyawa in 1562 under King Seethawaka Rajasinghe.
In the days of ancient Sinhala Kingdoms, it was the fighting technique of the noblemen. Angampora continued with the Sinhala kings with the changeover of the kingdoms towards the southwest of the country. However, with each new king, new gurus were appointed and as a result the pedigree of the gurus of Angampora got weakened.
A variety of weapons are used in Angampora. One of the most lethal weapons is the 'Velayudaya', a whip like apparatus made of four double-edged flexible strips of metal. A practitioner uses a pair of this apparatus to obtain maximum effect. However, only the most experienced fighters use these weapons, as there is a risk of cutting oneself badly while lashing out at an adversary.
(Image Source: Link)
Then there is the combat sword. This thick instrument is custom made for the fighter. The length of the sword is similar to the distance between the fighter's fingertips and his under arm. A smaller variety of sword, known as the 'Keti Kaduwa', is also used. This is used together with a small shield or 'Paliya', which is about the size of a normal wall clock.
Later Angampora went through a fall, almost disappearing during the colonial era. The main reason for this was that Angampora was highly dreaded by the British during their invasion. They took deardful actions to prevent the practice of Angampora, such as burning practice huts , shooting the kneecaps of the existing practitioners to maim and scare them.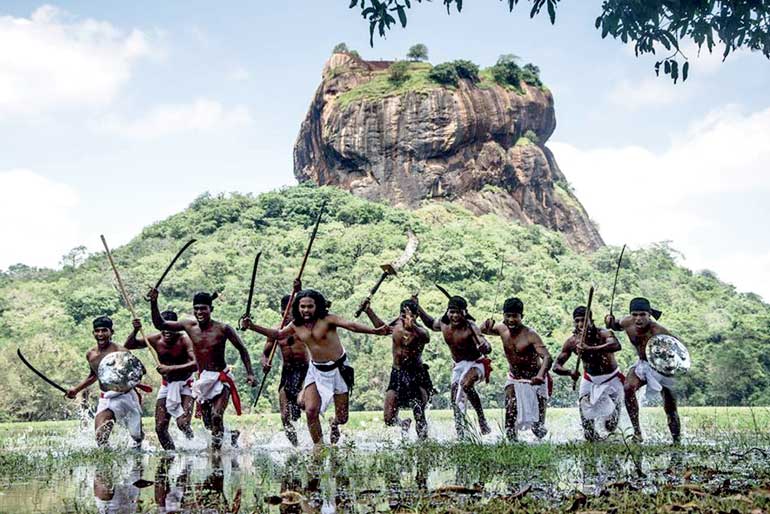 (Image Source: Link)
Despite their efforts, Angampora survived and reemerged after the end of the British rule in 1948.