Beeralu lace making is done  in many areas down South.  The craft is said to have originated during the Portuguese period  in Sri Lanka. It began  when women were taught how to create lace designs to decorate their own attire. Later during the Dutch period, it became popular  in many other areas in the Southern coast.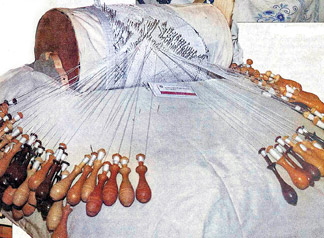 (Image Source: Link)
The lace is known as beeralu and the cushion on which lace patterns are worked out as Beeralu Kotte. Different designs produced are  called Beeralu Mostara in Sinhalese. Mostara is the Portuguese expression of 'design'. The art of lace making had  been traditionally handed down from mother to daughter.
Before   starting work on the craft, the design is drawn on a  graph paper. It is then attached to the kotta boley with pins inserted on the entire design. The weaver then takes the thread around the pin manually, using beeralu to form various knots to create the design outlined on the graph paper.
(Image Source: Link)
It is during this process that elegant pieces of beeralu lace take shape. As the crafting continues, the weaver is seen rotating the small pillow (kotta boley) to gather the lace strips around it. The number of beeralu used for weaving varies depending on the pattern, while the threads used for weaving can be mostly white and sometimes a mixture of colours.